Meet The Team
Our team at La Strega is passionate about Italian cuisine, from using the freshest of ingredients to providing a warm dining experience...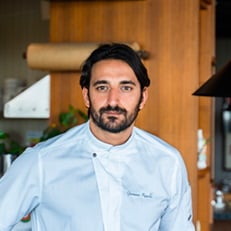 Giovanni Rinaldi
Head Chef
Giovanni Rinaldi
Head Chef
With over 10 years of culinary experience, Chef Giovanni proudly delivers the home-cooked flavours of Italy at La Strega.
Originally from Rome, Italy, Chef Giovanni's journey of discovery has taken him from Roma to London and onwards to Abu Dhabi. Prior to joining La Strega in 2023, he was the Head Chef at Sacci, an authentic Italian trattoria at the Westin Abu Dhabi Golf Resort & Spa.
In his free time, he enjoys cooking classic carbonara and watching his favourite football team, AS Roma play in the Serie A.
Chef Giovanni and his team promise quality ingredients, sourced and cooked to the highest standard.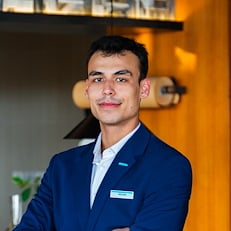 Maxim Vasilenko
Assistant Restaurant Manager
Maxim Vasilenko
Assistant Restaurant Manager
Originally from Tajikistan, Maxim grew up in Udine, Italy. He began his career at the young age of 16 as Commis in a 4-star hotel in Veneto. He also lived and worked in Tuscany and Sardegna.
His passion for the hospitality industry led him to many prestigious restaurants across Europe. Prior to La Strega, he was working at the China Club in Berlin, Germany as Chef de Rang.
Maxim gladly shares his knowledge with team members and guests alike, in the never-ending quest of delivering memorable dining experiences for everyone at La Strega.